---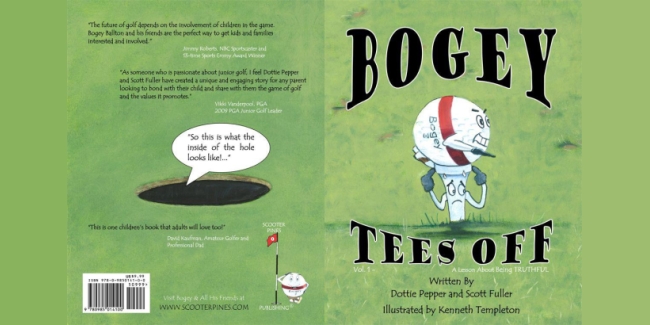 NBC's Dottie Pepper To Sign Children's Book At 2012 US Open

Former LPGA star and current NBC commentator Dottie Pepper will be signing copies of her children's book, Bogey Tees Off: A Lesson About Being Truthful (Scooter Pines Publishing, $9.99), at the 2012 U.S. Open at The Olympic Club in San Francisco. Pepper,along with co-author Scott Fuller, will be signing in the U.S. Open Merchandise Pavilion at The Olympic Club on Monday, June 11 from 10 a.m. - 11:30 a.m. PST and on Tuesday, June 12 from 3 p.m. to 4:30 p.m. PST.

This book is the first in a planned 18-volume series featuring Bogey Ballton. Each volume in the series uses golf to teach valuable life lessons.

Bogey Tees Off is the story about an ambitious range golf ball, Bogey Ballton, who is tired of his dead-end job at the practice range. His fate changes when John the Ball Washer helps Bogey to be truthful about himself and pursue his life's passion to become a pro tour golf ball.

"Our intent is to produce books that allow kids and families to be introduced to the game of golf while promoting values that are applicable on and off the golf course," said Pepper. "I'm looking forward to sharing Bogey with fans at the U.S. Open."

In addition to Bogey Tees Off: A Lesson About Being Truthful, Scooter Pines Holdings has developed two posters featuring Bogey and golf ball themes to benefit the Folds of Honor Foundation and Navy SEAL Foundation. For more information on the company and these products, visit www.bogeyteesoff.com.

Posted June 10, 2012 || Viewed 2,892 times
Share Comment