Share: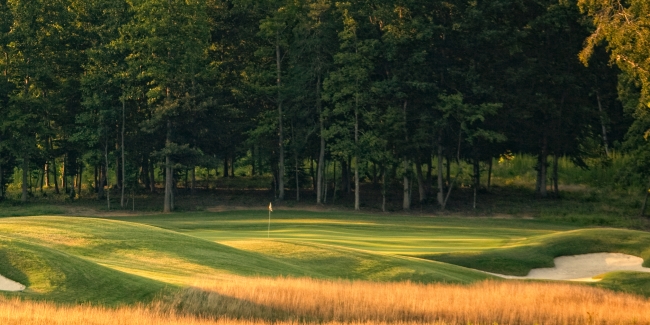 Virginia's Viniterra: Heard It Through The Grapevine
By Patrick McCabe
Great highways like Interstate 64 and scenic byways crisscross the state of Virginia throughout its gorgeous rolling countryside, making a trip to such grand golf resorts as Wintergreen in the mountains to the Golden Horseshoe in the heart of Williamsburg in the Tidewater region both easy and easy on the eyes.

Through the years, renowned golf course architect Rees Jones has provided a major hand in both of Virginia's iconic venues. And as Jones is quick to admit, his earlier work there helped prepare him for what was to come later.

When Jones took over the mantle of "Open Doctor" from his famed father, Robert Trent Jones Sr., he realized there would be challenges in turning classic courses into modern challenges. After stringing along enough of these projects - including Middle Atlantic gem Congressional Country Club in Maryland and next year's site, Pinehurst No. 2 in North Carolina - Jones has grown accustomed to taking an examination from the past and custom-fitting it for the present.

So when it came time to develop a brand-new golf course all his own - centrally located between Richmond and Williamsburg, Va., just off of Interstate 64 in New Kent County - Jones decided to stay the course.

At Viniterra, a semi-private, gated community of luxury estate home sites and resort cottages in Virginia's New Kent Vineyards Development, Jones was not required to be "neoclassical" in approach. He chose to be neoclassical in design. And the golf-rich state of Virginia is much better for it.

"The older you get the better you get in our design business, because you learn from what you did in the past," said Jones while touring the Viniterra site. "I think this kind of reflects what we did in the past. We built an old-style golf course - a neoclassical golf course - that doesn't have mounds or artificial hazards. It has very little water, lots of open entrances, and it has catchment areas behind the greens so you don't go too far into the woods. Plus, it's got wide fairways, which I think is the future of golf. Because the ball is going so much farther, when it goes off line it goes off line a lot farther.

"I really think [Viniterra] is a back-to-the-future golf course with old style architecture with the modern game in mind."

According to Jones, the unique piece of property he was originally shown at Viniterra emerged from contacts he made at another distinctly different site - this one along the coast of North Carolina, just a few hours to the southeast.

"I had done the Currituck Club in the Outer Banks and when the owners there bought [Viniterra's] property, they had us look at it," said Jones. "We immediately said: 'Boy, this is going to be spectacular for golf.'"

Jones said that what first grabbed his attention about the Viniterra property was that the terrain offered elevation changes unlike a lot of Virginia golf courses. "This property at Viniterra is more rugged than a lot of the land I've worked with out of the state, except maybe the Wintergreen courses at both the bottom and the top of the mountains," said Jones. "I've been very lucky with the sites I've had in Virginia and the clients. So I hope I've left something for people to enjoy forever."

Now that, in Viniterra, Jones has his signature on a course that already feels like it has been around forever, Jones admitted he takes particular pride in the Viniterra project, which started in historic land situated in the vineyards.

"I don't think I put a characteristic on the golf course so you can tell that it's my design because I change the characteristics [as Viniterra progresses], said Jones. "From small bunkers to large bunkers to fewer bunkers, from slopes to grass pockets, I think the characteristics of most of my golf courses are for shot options.

"At Viniterra, you can go for the pin over the bunker, or you can go in the open entrance area or try to thread the needle where you have to flirt with the bunker off the tee so that you have a better angle into the green. It's a thinking person's golf course. That what really all of my courses seem to be, and that's the compliment I'm getting here at Viniterra."

So there you have it: Viniterra, as heard through the grapevine, straight from the horse's mouth.

Revised: 08/25/2013 - Article Viewed 20,117 Times - View Golf Course Profile
About: Patrick McCabe
---

Pat McCabe, a former University of Wisconsin - Milwaukee basketball shooting guard, can pop a three pointer from beyond the arc and sink birdie putts from the fringe.

Pat is a regular golf contributor to GolfWisconsin.com, ChicagoGolf.com and IndianaGolf.com.
---
More Articles by Patrick McCabe