Share:
Woodstone Meadows at Massanutten Resort
- Not Your Typical Executive Golf Course
By David Theoret
Woodstone Meadows Golf Course at Massanutten Resort is an executive length golf course but plays far from it. Although the course plays to a length of 5,065 yards of golf with a par of 65, it is anything but a pushover. You'll find nine par 3s, seven par 4s, and two par 5s; both play in excess of 500 yards.

Generous fairways let you go all out off the tee, leaving moderate length approach shots into sloping greens; many of which tilt towards the mountain and create putts that break opposite of what you expect. They are a good speed and roll well.

Of the nine par 3 holes, none are really easy. Some are tight, others have water in play; some require a carry onto the green over sand. The two par 5s are what define Woodstone Meadows, especially number 18.

Most Memorable Hole: Number 18, Par 5, 533 yards (Blue Tees). How many "executive" golf courses have a 533-yard, par 5? The hole plays uphill and will require three shots from most players to get on the green. In regulation. There's a single pot bunker in the fairway about 350 yards from the tee, so go ahead and swing away; the landing area is plentiful and wide open. Trees guard the right side of the fairway in the landing area of your layup shot and anything hit too far left will bring a bunker into play on your approach shot, so aim for the middle of the fairway. The green is large, receptive and features several subtle undulations. Par is a great way to end.

Favorite Par 3: Number 7, 177 yards (Blue Tees). This picturesque par 3 offers its fair share of trouble: Trees and brush on the right side and a creek that crosses the fairway and runs up towards the green. The hole plays downhill and slightly shorter so be sure to check flag placement and select the right club. A back pin will require at least one extra.

Favorite Par 4: Number 14, 387 yards (Blue Tees). A risk/reward hole that requires you to carry the water...twice! There's plenty of room off the tee, so feel free to hit driver; from the back tees it's about a 220-yards to carry the first pond and fairway bunker and get to the fairway. The longer you hit it, the shorter the approach. Short and left will find the water. The green is guarded by sand and both sides.

Favorite Par 5: Number 3, 501 yards. The other par 5 also tops the 500-yard plateau, on an executive course! If you're a longball hitter, this hole may have a low number waiting at the end. Keep it on the left side off the tee to avoid the two pot bunkers right; if you can hit a draw, now's the time! From the forward tees, the large tree on the left creates a need to hit your tee shot way out to the right and truly make it a three shot hole for the ladies. Now, all that lies between you and getting home in two is the trio of pot bunkers that guard the right side. If length isn't your game, keep it left all the way to the green. Hit your approach shot close and make a birdie.

Last Word: Woodstone Meadows Golf Course makes for a fun and entertaining afternoon of golf and, if you're planning on playing the championship length Mountain Greens course, it's a great warm up. There's a driving range just outside the pro shop to warm up your game as well as a practice putting green. The pro shop is stocked with the all of the latest gear as well as some good looking logoed apparel. For a good time on an entertaining shorter course, book a round at Woodstone Meadows Golf Course at Massanutten Resort. Visit them online at www.massresort.com.

Article Tags: Massanutten Resort, Golf Virginia, Golf courses in Virginia,Stay and play golf packages
Revised: 09/01/2018 - Article Viewed 10,107 Times
About: David Theoret
---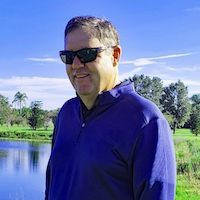 David Theoret has been in the golf and golf travel industry for over 10 years, primarily selling online advertising. For the past seven years, he has also been a golf writer, reviewing golf courses, resorts, destinations, equipment, golf apparel, and training aids - the latter of which never seems to help. David's articles and reviews have been posted on many golf travel and equipment websites.

Growing up in Southwestern Ontario, Canada, it was naturally assumed he would play hockey. Beginning at the age of 3 and continuing into his late 30's, he did just that. However, after one too many pucks to the head, he realized that golf was a lot easier on the body (whoever said hockey players were slow) and took the game up.

After moving to Florida and accepting a position with TravelGolf Media (now part of GolfNow) his love for the game grew exponentially. Most Saturdays you will find him on a course somewhere in Florida or on the practice range reinforcing his bad habits. David plays to a 10 handicap - unless there is money involved in which case it goes considerably higher. He currently resides in Lakeland, FL with his wife Belinda and their two "kids", Madyson and Molly.

---
More Articles by David Theoret