Share: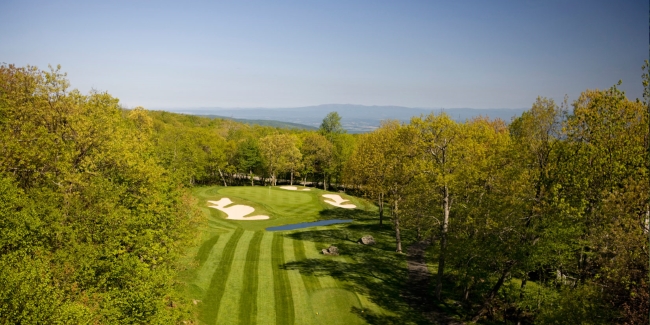 Golf at Wintergreen Resort is a wonderful respite from the summer doldrums
It's cool up here
By Steve Habel
If you're searching for a place to beat the summer heat and play two varied and testing golf courses look no further than the wonderfully secluded Wintergreen Resort, set on the Virginian eastern slopes of the Blue Ridge Mountains about 35 minutes southwest of Charlottesville.

Wintergreen Resort is anything but typical, eschewing an oversized and overcrowded lodge in favor of more than 300 condominiums spread across the property's expanse of better than 11,000 acres. There are literally thousands of private properties to choose from for rental or purchase here, but the isolation is the resort's true calling card - it's a place where you'll find plenty of elbow room.

Although the Wintergreen Resort is renowned as a prime winter vacation spot - complete with snow skiing, snowboarding and snow tubing - it's the property's 45 holes of golf that piqued our interest.

The golf is divided among two courses - Devils Knob, an 18-hole track designed by Ellis and Dan Maples on the highest parts of resort, replete with 50-mile views of the Shenandoah and Rockfish River valleys, and Stoney Creek, three nine-hole courses fashioned by Rees Jones in property's lower confines.

The two courses are separated by about 11 miles of winding roads and about 15 degrees in temperature. Because Devils Knob is rests at an average elevation of 3,850 feet and is the highest course in Virginia, is cooler there than in the valley in which Stoney Creek is routed.

Devils Knob demands real shotmaking; Stoney Creek asks for every club in the bag
Devils Knob, the original course at the Wintergreen Resort runs along challenging, yet surprisingly level mountain ridges, incorporating an abundance of natural rock outcroppings, mountain foliage and streams.

Devils Knob is a position golf course where players won't often utilize their driver; the course dictates club selection and the type of shot. The Maples' 6,668-yard routing follows old Indian trails and rolls gently over the contours of the land. The course's notoriously fast greens are narrow, with some multi-tiered surfaces, while danger lurks along the sides of the tree-lined.

The differences in the two golf courses also highlight the variety. Jones' 27-hole course at Stoney Creek incorporates natural springs and native habitat, including Lake Monocan, with all three nines offering generous landing areas, few forced carries and large, deceptively contoured greens.
Stoney Creek - with its nines labeled Monocan, Shamokin and Tuckahoe - is quite a bit longer, grants much more leeway off the tee and is more level than Devils Knob (even though it's hardly flat). Each nine-hole layout calls for golfers to use every club and to different kinds of shots.

A creek dogs you all the way around Monocan, while Tuckahoe can be a bit of a roller coaster thanks to some pretty steep elevation changes, tricky, undulating greens, several doglegs and lots of trees. Shamokin, meanwhile, is more closed in by trees than the other two nines.

Stoney Creek also features Jones' signature mounding which helps to frame the holes and provide some protection to the average player who might otherwise hit through the fairway. The mounding looks like it's part of the terrain, molding Jones' philosophy with the natural elements existing on the property into a very playable golf course.

The main challenge for better players at Stoney Creek comes in the severity of the greens. The size of the putting surfaces and the undulation allows for several different pin placements, each of which requires accurate shots to provide a solid chance to score.

Plenty of fun off the courses, too
Wintergreen Resort is a true, four-season mountain retreat adjacent to the George Washington National Forest, with - besides the golf - mountain recreation, an award-winning tennis program; a full-service, mountaintop spa; outdoor recreation such as hiking, fly fishing and swimming and a variety of enticing dining options.

For those seeking a memorable family vacation, Wintergreen offers special packages, children's programs at The Treehouse as well as and a special events and activities to keep everyone entertained.

Wintergreen Resort is also an ideal location for meetings, conferences and events. The resort features 40,000 square feet of indoor and outdoor function space, audiovisual services, an award-winning banquet department and experienced conference service professionals ready to help coordinate your unforgettable event in a spectacular setting.

The resort is located in the heart of Central Virginia adjacent to the Blue Ridge Parkway, just 90 minutes from Richmond, Va. and about three hours from Washington, D.C.


Revised: 08/02/2016 - Article Viewed 29,320 Times - View Course Profile

About: Steve Habel
---

Steve Habel is a contributing editor for GolfTrips and its associated websites. A 26-year industry veteran, he regularly contributes to various regional, national and international golf publications and has played and written about more than 1,600 golf courses around the world.

Habel is also senior editor for Horns Illustrated magazine, a publication focusing on University of Texas sports, as well the San Antonio Spurs beat writer for The Sports Xchange. He is a correspondent for the Austin American-Statesman and frequently files stories and features for The Associated Press and Preferred Lifestyle magazine.

Habel, who lives in the Austin, Texas area, has worked media coordinator for World Golf Hall of Fame player and golf architect Tom Kite as well as for renowned golf architects Roy Bechtol and Jeffrey D. Brauer.

He is a member of the Golf Writers Association of America, the Texas Golf Writers Association and the Football Writers Association of America.

---
More Articles by Steve Habel